Website sedang tahap proses pelengkapan konten, jangan lupa share untuk mensupport kami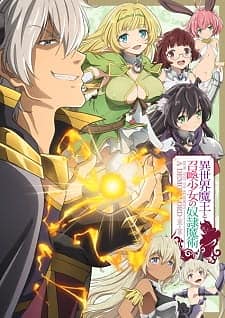 7.32
Type

:

TV
Season

:

Summer 2018
Episode

:

12
Durasi

:

23 min per ep
Studio

:

Ajia-Do
Skor

:

7.32
Sinopsis :
Dalam MMORPG yang dimainkan Takuma Sakamoto, ia sangat kuat hingga dijuluki "Raja Iblis" oleh pemain lain.
Suatu hari, ia dipanggil ke dunia lain yang mirip dengan MMORPG yang dimainkannya. Ia kemudian bertemu dengan dua gadis yang mengaku telah memanggil dirinya ke dunia lain.
Ketika kedua gadis itu mencoba membuat Takuma menjadi budak mereka, saat itulah sihir pemantul milik Takuma aktif dan membuat keadaan berbalik. Kedua gadis itu justru jadi budak Takuma.
Dan kisah Raja Iblis Takuma pun dimulai.
Informasi :
Judul

:

Isekai Maou to Shoukan Shoujo no Dorei Majutsu
English

:

How Not to Summon a Demon Lord
Sinonim

:

The Otherworldly Demon King and the Summoner Girls' Slave Magic
Japanese

:

異世界魔王と召喚少女の奴隷魔術
Genre

:

Comedy, Ecchi, Fantasy, Magic
Season

:

Summer 2018
Episode

:

12
Durasi

:

23 min per ep
Studio

:

Ajia-Do
Aired

:

Jul 5, 2018 to Sep 20, 2018
Broadcast

:

Thursdays at 22:00 (JST)
Score

:

7.32
Licensor

:

Funimation
Rating

:

PG-13 - Teens 13 or older
Source

:

Light novel
Subtitle

:

Indonesia
Dilihat

:

211 Views
Kamu bisa download Isekai Maou to Shoukan Shoujo no Dorei Majutsu Batch Full Episode Sub Indo dibawah ini. Jika menemukan link rusak/error harap lapor di kolom komentar.
Download Batch Anime Isekai Maou to Shoukan Shoujo no Dorei Majutsu Subtitle Indonesia
Anime Lainnya