Website sedang tahap proses pelengkapan konten, jangan lupa share untuk mensupport kami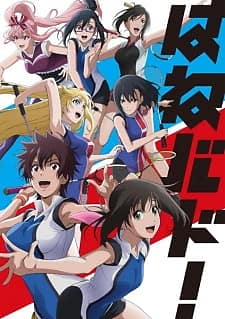 7.16
Type

:

TV
Season

:

Summer 2018
Episode

:

13
Durasi

:

24 min per ep
Studio

:

LIDENFILMS
Skor

:

7.16
Sinopsis :
Kentarou Tachibana, seorang pelatih bulutangkis SMA yang memiliki antusiasme yang lebih banyak daripada anggota timnya.
Suatu hari, dia bertemu dengan Hanesaki Ayano, seorang yang memiliki fisik yang baik untuk bermain bulutangkis.
Tachibana berusaha merekrutnya meskipun dia sama sekali tidak tertarik dengan olahraga ini. Tachibana yakin, bersama dirinya mereka dapat meraih juara!
Informasi :
Judul

:

Hanebado!
English

:

Hanebado!
Sinonim

:

The Badminton play of Ayano Hanesaki!
Japanese

:

はねバド!
Genre

:

Seinen, Sports
Season

:

Summer 2018
Episode

:

13
Durasi

:

24 min per ep
Studio

:

LIDENFILMS
Aired

:

Jul 2, 2018 to Oct 1, 2018
Broadcast

:

Mondays at 00:00 (JST)
Score

:

7.16
Producer

:

Kodansha, TOHO animation
Licensor

:

Funimation
Rating

:

PG-13 - Teens 13 or older
Source

:

Manga
Subtitle

:

Indonesia
Dilihat

:

169 Views
Kamu bisa download Hanebado! Batch Full Episode Sub Indo dibawah ini. Jika menemukan link rusak/error harap lapor di kolom komentar.
Download Batch Anime Hanebado! Subtitle Indonesia
Terimakasih sudah download Hanebado! Sub Indo di FuyuBatch. Support kami dengan share post ini.
Anime Lainnya