Website sedang tahap proses pelengkapan konten, jangan lupa share untuk mensupport kami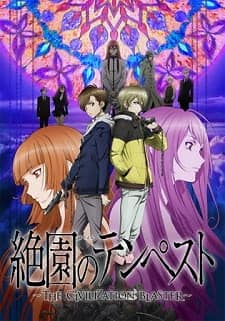 8.11
Sinopsis :
Zetsuen no Tempest – Cerita berfokus kepada siswa SMA yang bernama Yoshino Takigawa. Yoshino memiliki dua sahabat dekat, mereka adalah Fuwa Mashiro dan Fuwa Aika. Mereka selalu bermain bersama, sampai akhirnya, Fuwa Aika terbunuh, tanpa tau penyebabnya dan pelakunya. Setelah kejadian itu, Mashiro tiba tiba menghilang.
Setelah 1 tahun meninggalnya Aika, Takigawa berkunjung kemakamnya. Tapi, disaat berada di makam, Takigawa terlibat perkelahian dengan seorang wanita paruh baya bersenjata. Setelah Takigawa terpojok karena wanita itu membawa senjata, disana Mashiro datang dan menyelamatkannya.
Takigawa mengetahui bahwa Mashiro telah membuat perjanjian dengan seorang penyihir yang bernama Hakaze Kusaribe, demi mengungkap dalang dibalik pembunuhan Aika dan adanya entitas yang dikenal sebagai Tree of Exodus. Dalam bimbingan Hakaze, Mashiro telah menjadi seorang penyihir dengan memanfaatkan barang pusaka milik Kusaribe.
Tapi, saat dunia terguncang karena adanya aktifitas supranatural, Hakaze malah dijebak kedalam tong dan dibuang ke pulau terpencil. Sekarang nasib dunia terserah kepada Takigawa dan Mashiro, yang akan menyelamatkan Hakaze, dan sekaligus menyelamatkan Dunia, sembari mereka mengungkap dalang dari kematian Aika.
Trailer
Informasi :
Judul

:

Zetsuen no Tempest
English

:

Blast of Tempest
Sinonim

:

Zetsuen no Tempest: The Civilization Blaster
Japanese

:

絶園のテンペスト
Genre

:

Action, Drama, Fantasy, Magic, Mystery, Psychological, Romance, Shounen, Super Power, Supernatural
Season

:

Fall 2012
Episode

:

24
Durasi

:

24 min. per ep.
Studio

:

Bones
Aired

:

Oct 5, 2012 to Mar 29, 2013
Broadcast

:

Fridays at 02:00 (JST)
Score

:

8.11
Producer

:

Aniplex, Dentsu, Square Enix, Mainichi Broadcasting System, Yahoo! Japan
Licensor

:

Aniplex of America
Rating

:

PG-13 - Teens 13 or older
Source

:

Manga
Subtitle

:

Indonesia
Dilihat

:

177 Views
Kamu bisa download Zetsuen no Tempest BD Batch Full Episode Sub Indo dibawah ini. Jika menemukan link rusak/error harap lapor di kolom komentar.
Download Batch Anime Zetsuen no Tempest BD Subtitle Indonesia
Anime Lainnya