Website sedang tahap proses pelengkapan konten, jangan lupa share untuk mensupport kami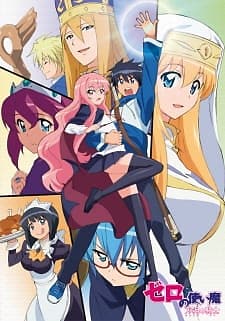 7.71
Type

:

BD
Season

:

Winter 2012
Episode

:

12
Durasi

:

24 min. per ep.
Studio

:

J.C.Staff
Skor

:

7.71
Sinopsis :
Season 4 dari Zero no Tsukaima. Anime ini bercerita tentang Louise Françoise, seorang gadis bangsawan yang sangat buruk dalam menggunakan sihir.
Oleh teman-temannya ia dijuluki Louise the Zero lantaran ketidakmampuannya dalam menggunakan satu pun dari keempat elemen sihir umum.
Pada awal tahun ajaran di Akademi Sihir Tristain, siswa tahun kedua melakukan ritual khusus di mana mereka memanggil familiar mereka, yang berfungsi sebagai mitra dan pelindung abadi.
Biasanya familiar yang dipanggil berupa makhluk sihir. Tapi entah kenapa Louise malah memanggil Saito Hiraga, seorang anak remaja biasa dari Jepang.
Dari sinilah cerita Zero no Tsukaima bergulir.
Trailer
Informasi :
Judul

:

Zero no Tsukaima F
English

:

The Familiar of Zero F
Sinonim

:

Zero no Tsukaima Final Series, Zero's Familiar Final Series, Zero no Tsukaima S4
Japanese

:

ゼロの使い魔F
Genre

:

Adventure, Ecchi, Fantasy, Magic, Romance
Season

:

Winter 2012
Episode

:

12
Durasi

:

24 min. per ep.
Studio

:

J.C.Staff
Aired

:

Jan 7, 2012 to Mar 24, 2012
Broadcast

:

Unknown
Score

:

7.71
Producer

:

Cospa, Showgate
Licensor

:

Sentai Filmworks
Rating

:

PG-13 - Teens 13 or older
Source

:

Light novel
Subtitle

:

Indonesia
Dilihat

:

164 Views
Kamu bisa download Zero no Tsukaima F BD Batch Full Episode Sub Indo dibawah ini. Jika menemukan link rusak/error harap lapor di kolom komentar.
Download Batch Anime Zero no Tsukaima F BD Subtitle Indonesia
Anime Lainnya