Website sedang tahap proses pelengkapan konten, jangan lupa share untuk mensupport kami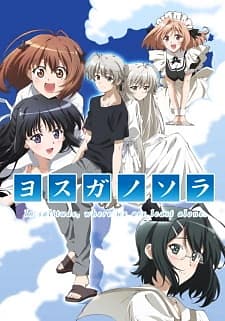 6.58
Sinopsis :
Cerita Yosuga no Sora berpusat pada dua anak kembar yang menjadi tokoh utamanya : Si Cowok (kakak) bernama Kasugano Haruka dan Si Cewek (adik) bernama Kasugano Sora.
Meski mereka saudara kembar, tapi karena Sora menderita penyakit yang mengharuskannya untuk menetap di rumah sakit, ia tidak pernah bertemu dengan Haru.
Oiya … Mereka berdua tanpa sadar mencintai satu sama lain meskipun mereka tahu, kalo mereka adalah saudara sedarah.
Beberapa tahun kemudian, Haru & Sora menjadi yatim piatu karena kedua orang tua mereka meninggal dalam suatu kecelakaan lalu lintas.
Kemudian, mereka pun memutuskan untuk tinggal di desa bernama Okukozome-chou dimana kakek mereka tinggal dan menetap dahulu.
(Karena kedua orang tua mereka meninggal, mereka tidak mungkin untuk tinggal di apartemen kota lagi)
Saat kembali ke desa itu, Haruka sedikit demi sedikit mulai teringat akan kenangan pada saat mereka berdua masih tinggal di desa tersebut.
Mulai dari rasa bersalah terhadap teman baiknya maupun cinta pertamanya.
Trailer
Informasi :
Judul

:

Yosuga no Sora: In Solitude, Where We Are Least Alone.
English

:

Yosuga no Sora
Sinonim

:

Sky of Connection
Japanese

:

ヨスガノソラ In solitude, where we are least alone.
Genre

:

Drama, Ecchi, Harem, Romance
Season

:

Fall 2010
Episode

:

12
Durasi

:

25 min. per ep.
Studio

:

feel.
Aired

:

Oct 4, 2010 to Dec 20, 2010
Broadcast

:

Mondays at 23:30 (JST)
Score

:

6.58
Producer

:

Starchild Records, Studio Mausu, GANSIS, PRA
Licensor

:

Media Blasters
Rating

:

R+ - Mild Nudity
Source

:

Visual novel
Subtitle

:

Indonesia
Dilihat

:

154 Views
Kamu bisa download Yosuga no Sora: In Solitude, Where We Are Least Alone. BD Batch Full Episode Sub Indo dibawah ini. Jika menemukan link rusak/error harap lapor di kolom komentar.
Download Batch Anime Yosuga no Sora: In Solitude, Where We Are Least Alone. BD Subtitle Indonesia
Anime Lainnya