Website sedang tahap proses pelengkapan konten, jangan lupa share untuk mensupport kami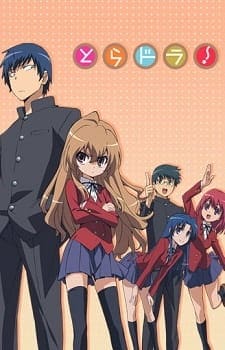 8.39
Toradora!
Sinopsis :
Toradora! – Bercerita tentang Ryuuji Takasu siswa SMA yang memiliki tampang seperti pereman. Dia di takuti sekaligus dihormati oleh orang orang tak terkecuali gurunya sendiri, tapi sebenarnya dia adalah orang yang baik hati.
Suatu hari saat disekolah dia tak sengaja bertubrukan dengan seorang gadis dengan tubuh kecil seperti boneka, tanpa pandang buluh gadis tersebut langsung memukul Takasu sampai terjatuh. Gadis tersebut bernama Taiga Aisaka yang memiliki julukan sebagai "telapak tangan singa" dan ternyata adalah teman sekelas Takasu.
Saat pulang sekolah Takasu pulang terlambat karena dia harus mengerjakan beberapa hal dari gurunya di kantor, tapi saat Takasu hendak mengambil tasnya di kelas disana seorang gadis yang bernama Aisaka muncul dan mengacaukan beberapa meja dan kursi.. saat itu pula Takasu mencoba untuk bersikap tenang dan menghiraukan kejadian disana. Tapi pas Takasu mengambil tasnya di kursi tiba tiba Aisaka merebut tasnya, Takasu pun bungung apa yang Aisaka lakukan dengan tasnya.
Saat sampai dirumah Takasu mencari barang di tasnya dan menemukan sebuah surat atas dari "Aisaka kepada Yuusaku Kitamura" . Dan kebetulan Yuusaku adalah teman dekat Takasu. jadi Takasu bisa membantu Aisaka untuk menyatakan cintanya kepada Yuusaku. Dan sebagai imbalan Aisaka harus membantu Takasu untuk mendapatkan cinta Minori Kushieda.
Tapi rencana mereka tidak semulus itu, ada banyak rintangan yang harus di hadapi dan mereka pun semakin dekat. tapi suatu hari teman sekelasnya mengira mereka pacaran dan menyebarkan gosip tentang mereka..
Trailer
Informasi :
Judul

:

Toradora!
English

:

Toradora!
Sinonim

:

Tiger X Dragon
Japanese

:

とらドラ!
Genre

:

Comedy, Romance, School, Slice of Life
Season

:

Fall 2008
Episode

:

25
Durasi

:

24 min. per ep.
Studio

:

J.C.Staff
Aired

:

Oct 2, 2008 to Mar 26, 2009
Broadcast

:

Thursdays at 01:20 (JST)
Score

:

8.39
Producer

:

Genco, Starchild Records, Magic Capsule, Yomiuri Advertising, TV Tokyo Music
Licensor

:

NIS America, Inc.
Rating

:

PG-13 - Teens 13 or older
Source

:

Light novel
Subtitle

:

Indonesia
Dilihat

:

195 Views
Kamu bisa download Toradora! BD Batch Full Episode Sub Indo dibawah ini. Jika menemukan link rusak/error harap lapor di kolom komentar.
Download Batch Anime Toradora! BD Subtitle Indonesia
Anime Lainnya