Website sedang tahap proses pelengkapan konten, jangan lupa share untuk mensupport kami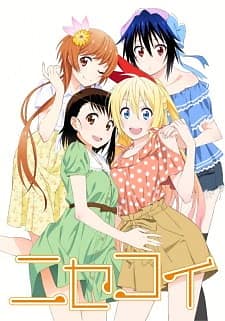 7.81
Type

:

BD
Season

:

Winter 2014
Episode

:

20
Durasi

:

24 min. per ep.
Studio

:

Shaft
Skor

:

7.81
Sinopsis :
Nisekoi – Ichijou Raku, seorang siswa SMA tahun pertama disekolah Bonyari. Raku adalah satu satunya anak dari ketua Yakuza, dan sekaligus akan menjadi pewarisnya, tapi, Raku selalu menolak hal itu…
Pada 10 tahun yang lalu, Raku pernah berjanji kepada seorang gadis yang menjadi teman masa kecilnya, mereka berdua bertukar kunci dan liontin, dan pada suatu hari saat dewasa, mereka akan bertemu kembali dan menikah. Tapi, kini Raku lupa akan siapa gadis yang pernah bertukar janji dengannya, dan satu satunya cara untuk membuktikannya adalah liontin yang dia miliki.
Suatu hari, saat Raku sedang berangkat kesekolah, dirinya tak sengaja tertendang oleh seorang gadis berambut pirang, Raku pun kehilangan liontin dan terluka, dan ternyata gadis berambut pirang tersebut adalah seorang murid pindahan dikelas yang sama dengan Raku, dia bernama Kirisaki Chitoge, sejak saat itu setiap pertemuan mereka, mereka selalu saling ejek dan bertengkar. Tapi, sebuah kejadian tak terduga menimpa Raku, Raku yang baru saja pulang dari sekolah, tiba tiba ayahnya menjodohkannya dengan seorang gadis, dan ternyata gadis tersebut adalah Chitoge yang juga seorang anak dari bos mafia. Alasan keluarga menjodohkan mereka karena untuk menghentikan peperangan antar kelompok yang berada di wilayah yang sama. Tentu saja mereka berdua hanya berhubungan sebagai "pacar bohongan", karena sejatinya mereka saling benci, apalagi Raku telah mencintai seorang gadis, gadis tersebut bernama Onodera Kosaki.
Nah bagaimana kisah mereka selanjutnya ? Akankah Raku bisa menemukan gadis dengan kunci yang bisa membuka liontin miliknya ? Kini kisah komedi dan cinta mereka dimulai..
Trailer
Informasi :
Judul

:

Nisekoi
English

:

Nisekoi: False Love
Sinonim

:

Nisekoi
Japanese

:

ニセコイ
Genre

:

Comedy, Harem, Romance, School, Shounen
Season

:

Winter 2014
Episode

:

20
Durasi

:

24 min. per ep.
Studio

:

Shaft
Aired

:

Jan 11, 2014 to May 24, 2014
Broadcast

:

Saturdays at 23:30 (JST)
Score

:

7.81
Producer

:

Aniplex, Mainichi Broadcasting System, Shueisha
Licensor

:

Aniplex of America
Rating

:

PG-13 - Teens 13 or older
Source

:

Manga
Subtitle

:

Indonesia
Dilihat

:

175 Views
Kamu bisa download Nisekoi BD Batch Full Episode Sub Indo dibawah ini. Jika menemukan link rusak/error harap lapor di kolom komentar.
Download Batch Anime Nisekoi BD Subtitle Indonesia
Terimakasih sudah download Nisekoi BD Sub Indo di FuyuBatch. Support kami dengan share post ini.
Anime Lainnya