Website sedang tahap proses pelengkapan konten, jangan lupa share untuk mensupport kami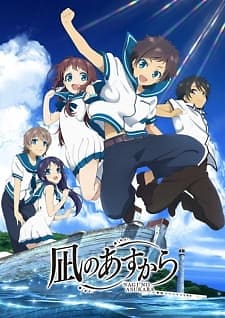 8.24
Sinopsis :
Nagi no Asukara – Pada zaman dahulu, semua manusia tinggal didalam laut. Sampai akhirnya, hampir seluruh manusia mencari tempat tinggal baru, yaitu di daratan. Tapi, sampai sekarang ini, manusia masih ada yang tinggal didalam laut.
Cerita berawal saat Sakishima Hikari dan teman temannya, yang tinggal didalam laut harus pindah sekolah, karena sekolahnya yang berada di lautan telah ditutup. Akhirnya mereka pindah sekolah di daratan, tepatnya disekolah Mihama.
Tapi, kehidupan sekolah mereka tidak berjalan mulus, karena mereka dari lautan. Walaupun begitu, mereka harus beradaptasi pada lingkungan darat dan orang orang yang berada di daratan. Tak terkecuali Mukaido Manaka, yang jatuh cinta kepada orang daratan, yang bernama Kihara Tsumugu, tapi, selanjutnya, cinta yang rumit akan akan terjadi.
Trailer
Informasi :
Judul

:

Nagi no Asukara
English

:

A Lull in the Sea
Sinonim

:

Nagi no Asu Kara, Earth color of a calm, Nagiasu
Japanese

:

凪のあすから
Genre

:

Drama, Fantasy, Romance
Season

:

Fall 2013
Episode

:

26
Durasi

:

23 min. per ep.
Studio

:

P.A. Works
Aired

:

Oct 3, 2013 to Apr 3, 2014
Broadcast

:

Thursdays at 22:00 (JST)
Score

:

8.24
Producer

:

Geneon Universal Entertainment, Sotsu, Animax, Rondo Robe, Showgate, Infinite
Licensor

:

NIS America, Inc.
Rating

:

PG-13 - Teens 13 or older
Source

:

Original
Subtitle

:

Indonesia
Dilihat

:

260 Views
Kamu bisa download Nagi no Asukara BD Batch Full Episode Sub Indo dibawah ini. Jika menemukan link rusak/error harap lapor di kolom komentar.
Download Batch Anime Nagi no Asukara BD Subtitle Indonesia
Anime Lainnya