Website sedang tahap proses pelengkapan konten, jangan lupa share untuk mensupport kami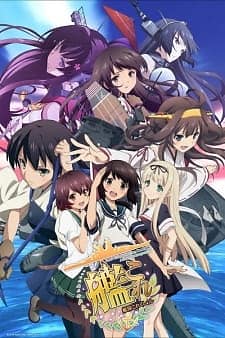 7.01
Kantai Collection: KanColle
Type

:

BD
Season

:

Winter 2015
Episode

:

12
Durasi

:

24 min. per ep.
Studio

:

Diomedea
Skor

:

7.01
Sinopsis :
Kantai Collection: KanColle – Lautan telah dibawah ancaman oleh armada Abyssal, armada misterius yang menghancurkan kapal kapal milik manusia, mereka berniat mengasai laut. Tapi, tentu saja manusia tidak diam begitu saja, mereka mendirikan sebuah pangkalan laut khusus untuk melawan armada Abyssal. Didalam pangkalan itu, para gadis yang memiliki "jiwa kapal" di kumpulkan di latih menggunakan senjata "Kanmusu", senjata yang memiliki kekuatan dari "jiwa kapal perang".
Cerita berfokus kepada Fubuki, yang baru saja di rekrut oleh pangkalan angkatan laut. Sialnya saat pertama kalinya dia direkrut, dia sudah bertarung melawan musuh di laut lepas, tapi, beruntung seniornya membantu mereka, tapi ternyata salah satu temannya ada yang tewas saat melakukan misi tersebut. Selanjutnya dia bertekat akan menjadi seorang yang kuat dan melindungi teman temannya.
Trailer
Informasi :
Judul

:

Kantai Collection: KanColle
English

:

KanColle: Kantai Collection
Sinonim

:

Kankore
Japanese

:

艦隊これくしょん -艦これ-
Genre

:

Action, Military, School, Sci-Fi, Slice of Life
Season

:

Winter 2015
Episode

:

12
Durasi

:

24 min. per ep.
Studio

:

Diomedea
Aired

:

Jan 8, 2015 to Mar 26, 2015
Broadcast

:

Thursdays at 01:05 (JST)
Score

:

7.01
Producer

:

flying DOG
Licensor

:

Funimation, Crunchyroll
Rating

:

PG-13 - Teens 13 or older
Source

:

Card game
Subtitle

:

Indonesia
Dilihat

:

187 Views
Kamu bisa download Kantai Collection: KanColle BD Batch Full Episode Sub Indo dibawah ini. Jika menemukan link rusak/error harap lapor di kolom komentar.
Download Batch Anime Kantai Collection: KanColle BD Subtitle Indonesia
Anime Lainnya