Website sedang tahap proses pelengkapan konten, jangan lupa share untuk mensupport kami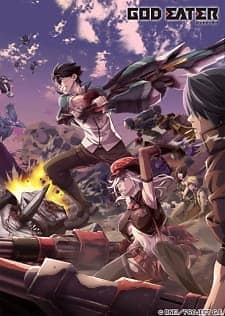 7.49
Type

:

BD
Season

:

Summer 2015
Episode

:

13
Durasi

:

23 min. per ep.
Studio

:

ufotable
Skor

:

7.49
Sinopsis :
God Eater – Ditahun 2071, manusia telah terancam punah karena monster yang bernama Aragami. Aragami adalah monster ganas yang kebal terhadap senjata bahkan bom, mereka memiliki beberapa versi dan bahkan beberapa dari mereka sangat besar.
Manusia yang tersisa membuat sebuah benteng yang berlapis dinding baja untuk mengatasi Aragami masuk, ke pemukiman mereka. Manusia juga menciptakan sebuah senjata anti Aragami, sebuah suntikan berisi cairan tertentu ke tubuh manusia, sehingga, orang tersebut bisa mengendalikan sebuah senjata God Arcs, senjata yang terbuat dari sel sel Aragami, dengan menggunakan senjata itu bahkan memotong Aragami akan lebih mudah.
Cerita berfokus kepada Utsugi Lenka, seorang pemuda, yang baru saja menjadi prajurit baru. Karena potensi yang kuat, yang dimiki Lenka, akhirnya dirinya menjadi bahan percobaan, disuntikkanlan cairan khusus daripada yang lain untuk Lenka. Akhirnya dirinya menjadi perajurit yang kuat. Bersama dengan teman temannya, dia mencoba untuk membasmi monster Aragami yang mengancam.
Trailer
Informasi :
Judul

:

God Eater
English

:

God Eater
Japanese

:

GOD EATER
Genre

:

Action, Fantasy, Military, Sci-Fi
Season

:

Summer 2015
Episode

:

13
Durasi

:

23 min. per ep.
Studio

:

ufotable
Aired

:

Jul 12, 2015 to Mar 26, 2016
Broadcast

:

Sundays at 22:30 (JST)
Score

:

7.49
Producer

:

Bandai Visual, Lantis, Anime Consortium Japan
Licensor

:

Aniplex of America
Rating

:

R - 17+ (violence & profanity)
Source

:

Game
Subtitle

:

Indonesia
Dilihat

:

181 Views
Kamu bisa download God Eater BD Batch Full Episode Sub Indo dibawah ini. Jika menemukan link rusak/error harap lapor di kolom komentar.
Download Batch Anime God Eater BD Subtitle Indonesia
Anime Lainnya