Website sedang tahap proses pelengkapan konten, jangan lupa share untuk mensupport kami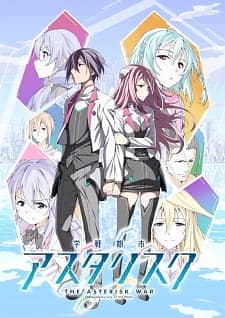 7.12
Sinopsis :
Gakusen Toshi Asterisk – bertahun tahun yang lalu, sebuah komet menghantam bumi, dengan meninggalkan sebuah virus, virus tersebut memungkinkan manusia yang terinfeksi memiliki mana (sihir), disebut Genestella. Dengan adanya mana, manusia mengembangkan teknologi dengan cepat, salah satunya adalah menciptakan senjata khusus untuk para Genestella.
Cerita berfokus kepada Amagiri Ayato, anak dari seorang pendiri kendo, yang pindah ke Akademi Seidoukan. Ayato pindah ke Akademi Seidoukan, karena dia sedang mencari kakaknya yang telah hilang, dan pihak sekolah berjanji akan mencari kakaknya jika Ayato dapat memenangkan pertandingan FESTA. FESTA adalah sebuah 'kompetisi', pertandingan yang di ikuti oleh ke 6 sekolah, yang di adakan setiap tahunnya.
Tapi, perjalanan Ayato disekolah tidak berjalan mulus, karena di hari pertama dia pindah sekolah, sebuah kejadian tak terduga mengharuskan dia harus bertarung dengan seorang perempuan yang bernama von Riessfeld Julis-Alexia. Lalu, dikelasnya, dia juga bertemu dengan teman masa kecilnya yang bernama Sasamiya Saya.
Dengan memenangkan kompetisi FESTA dan mengetahui keberadaan kakak perempuannya. Ayato harus melewati berbagai hal, tapi, itu tidak mudah, karena didalam kompetisi FESTA nantinya akan ada beberapa masalah yang menunggu Ayato. Masalah lainnya, yang mengganggu Ayato adalah kekuatan terhebat miliknya yang disegel kakaknya, karena kakaknya takut kekuatan ganas milik Ayato membuatnya lepas kendali.
Trailer
Informasi :
Judul

:

Gakusen Toshi Asterisk
English

:

The Asterisk War
Sinonim

:

Academy Battle City Asterisk
Japanese

:

学戦都市アスタリスク
Genre

:

Action, Comedy, Ecchi, Fantasy, Harem, Romance, School, Sci-Fi, Supernatural
Season

:

Fall 2015
Episode

:

12
Durasi

:

23 min. per ep.
Studio

:

A-1 Pictures
Aired

:

Oct 3, 2015 to Dec 19, 2015
Broadcast

:

Saturdays at 20:30 (JST)
Score

:

7.12
Producer

:

Aniplex, Animax, Movic, DAX Production, flying DOG, Bandai Namco Entertainment, Asahi Broadcasting
Licensor

:

Aniplex of America
Rating

:

PG-13 - Teens 13 or older
Source

:

Light novel
Subtitle

:

Indonesia
Dilihat

:

259 Views
Kamu bisa download Gakusen Toshi Asterisk BD Batch Full Episode Sub Indo dibawah ini. Jika menemukan link rusak/error harap lapor di kolom komentar.
Download Batch Anime Gakusen Toshi Asterisk BD Subtitle Indonesia
Anime Lainnya