Website sedang tahap proses pelengkapan konten, jangan lupa share untuk mensupport kami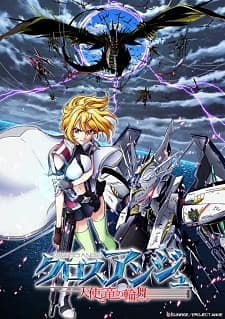 7.48
Sinopsis :
Cross Ange menceritakan tentang Ange, atau Angelise, seorang putri yang rasis dari sebuah kerajaan di dunia di mana para manusia bisa menggunakan sihir yang bernama Light of Mana.
Di dunia tersebut, terdapat juga ras manusia yang disebut sebagai Norma, yaitu manusia perempuan yang tidak bisa menggunakan sihir, tetapi langsung menetralisir semua sihir yang mereka sentuh.
Kaum Norma juga entah kenapa dibenci dan dianggap sangat rendah oleh semua manusia lainnya. Sayangnya Untungnya, Angelise ternyata seorang Norma.
Setelah identitasnya ketahuan, Ange kemudian disekap di sebuah pulau dan dibully diharuskan untuk menaiki robot raksasa untuk melawan D.R.A.G.O.N yang mengancam keamanan seluruh umat manusia.
Trailer
Informasi :
Judul

:

Cross Ange: Tenshi to Ryuu no Rondo
English

:

Cross Ange: Rondo of Angel and Dragon
Japanese

:

クロスアンジュ 天使と竜の輪舞〈ロンド〉
Genre

:

Action, Mecha, Sci-Fi
Season

:

Fall 2014
Episode

:

25
Durasi

:

23 min. per ep.
Studio

:

Sunrise
Aired

:

Oct 5, 2014 to Mar 29, 2015
Broadcast

:

Sundays at 01:30 (JST)
Score

:

7.48
Producer

:

Starchild Records, Bandai Namco Live Creative, Bandai Channel
Licensor

:

Sentai Filmworks
Rating

:

R - 17+ (violence & profanity)
Source

:

Original
Subtitle

:

Indonesia
Dilihat

:

141 Views
Kamu bisa download Cross Ange: Tenshi to Ryuu no Rondo BD Batch Full Episode Sub Indo dibawah ini. Jika menemukan link rusak/error harap lapor di kolom komentar.
Download Batch Anime Cross Ange: Tenshi to Ryuu no Rondo BD Subtitle Indonesia
Anime Lainnya