Website sedang tahap proses pelengkapan konten, jangan lupa share untuk mensupport kami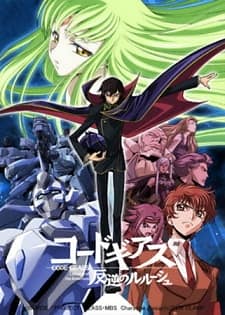 8.78
Sinopsis :
Anime ini berlatar di sebuah dunia fiksi di mana hampir seluruh bagiannya dikuasai oleh kerajaan Britannia — termasuk Jepang yang telah berganti nama menjadi Area 11.
Tokoh utamanya bernama Lelouch Lamperouge, seorang pangeran Britannia super jenius yang dibuang ke Area 11 oleh ayahnya.
Dengan berbekal kekuatan Geass yang diberi oleh seorang gadis penyihir immortal bernama C.C, Lelouch berusaha membalas dendam pada ayahnya dengan mengadakan pemberontakan.
Dalam aksinya, Lelouch menggunakan nama samaran Zero …, dengan tujuan agar tidak mempengaruhi kehidupan normalnya yang damai.
Trailer
Informasi :
Judul

:

Code Geass: Hangyaku no Lelouch
English

:

Code Geass: Lelouch of the Rebellion
Japanese

:

コードギアス 反逆のルルーシュ
Genre

:

Action, Drama, Mecha, Military, School, Sci-Fi, Super Power
Season

:

Fall 2006
Episode

:

25
Durasi

:

24 min. per ep.
Studio

:

Sunrise
Aired

:

Oct 6, 2006 to Jul 29, 2007
Broadcast

:

Fridays at 01:25 (JST)
Score

:

8.78
Producer

:

Bandai Visual, Mainichi Broadcasting System, Bandai, Sony Music Entertainment, Bandai Namco Entertainment, Hakuhodo DY Media Partners
Licensor

:

Funimation, Bandai Entertainment
Rating

:

R - 17+ (violence & profanity)
Source

:

Original
Subtitle

:

Indonesia
Dilihat

:

143 Views
Kamu bisa download Code Geass: Hangyaku no Lelouch BD Batch Full Episode Sub Indo dibawah ini. Jika menemukan link rusak/error harap lapor di kolom komentar.
Download Batch Anime Code Geass: Hangyaku no Lelouch BD Subtitle Indonesia
Anime Lainnya