Website sedang tahap proses pelengkapan konten, jangan lupa share untuk mensupport kami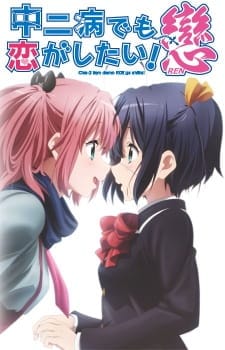 7.6
Chuunibyou demo Koi ga Shitai! Ren
Type

:

BD
Season

:

Winter 2014
Episode

:

12
Durasi

:

24 min. per ep.
Studio

:

Kyoto Animation
Skor

:

7.6
Sinopsis :
Chuunibyou demo Koi ga Shitai! Ren / Chuunibyou demo Koi ga Shitai! Season 2 – Setelah berakhirnya season 1, kini pada season 2, cerita cinta (romantis) akan semakin ditonjolkan. Rikka dan Yuuta yang telah berpacaran kini semakin dekat, tapi, seseorang tiba tiba datang, dia adalah Shichimiya Satone, rekan Chuunibyou Yuuta waktu sebelum SMA. Satone tau bahwa dirinya mencintai Yuuta, tapi, dia juga harus menjaga perasaan Rikka. Konflik lainnya juga terjadi di antara mereka dan teman teman seklub (klub tidur), mereka harus menjaga situasi agar ikatan pertemanan mereka tidak runtuh.
Cerita romantis, komedi nan seru akan disajikan ke pentonon.
Trailer
Informasi :
Judul

:

Chuunibyou demo Koi ga Shitai! Ren
English

:

Love, Chunibyo & Other Delusions!: Heart Throb
Sinonim

:

Chuunibyou demo Koi ga Shitai! 2, Chu-2 Byo demo Koi ga Shitai! Ren
Japanese

:

中二病でも恋がしたい!戀
Genre

:

Comedy, Drama, Romance, School, Slice of Life
Season

:

Winter 2014
Episode

:

12
Durasi

:

24 min. per ep.
Studio

:

Kyoto Animation
Aired

:

Jan 9, 2014 to Mar 27, 2014
Broadcast

:

Thursdays at 00:30 (JST)
Score

:

7.6
Producer

:

Lantis, TBS
Licensor

:

Sentai Filmworks
Rating

:

PG-13 - Teens 13 or older
Source

:

Light novel
Subtitle

:

Indonesia
Dilihat

:

211 Views
Kamu bisa download Chuunibyou demo Koi ga Shitai! Ren BD Batch Full Episode Sub Indo dibawah ini. Jika menemukan link rusak/error harap lapor di kolom komentar.
Download Batch Anime Chuunibyou demo Koi ga Shitai! Ren BD Subtitle Indonesia
Anime Lainnya