Website sedang tahap proses pelengkapan konten, jangan lupa share untuk mensupport kami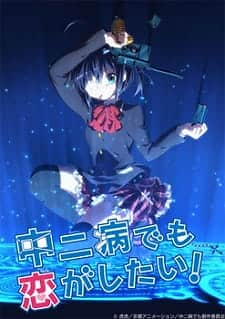 7.88
Chuunibyou demo Koi ga Shitai!
Sinopsis :
Chuunibyou demo Koi ga Shitai! – Chuunibyou adalah suatu penyakit yang memungkinkan seseorang untuk berimajinasi seperti hero atau tokoh utama didalam dunia fantasy. Biasanya mereka, meragakan dan berbicara seperti layaknya tokoh yang mereka imajinasikan.
Cerita berfokus kepada Togashi Yuuta, dimasalalu Yuuta sampai SMP dirinya mengidap penyakit Chuunibyou. Disekolah, dirumah dan dimanapun gaya dan cara berbicaranya sudah seperti tokoh utama di dunia fiksi, tapi, saat memasuki SMA akhirnya dia tobat dan ingin mengubur dalam dalam masa kelam itu. Alih alih bertobat dari penyakit Chuunibyou, dirinya malah bertemu dengan Takanashi Rikka, seorang gadis yang memiliki penyakit Chuunibyou tingkat Akut, tak sengaja Rikka melihat Yuuta kambuh dengan penyakit Chuunibyou saat Yuuta kira sedang sendirian.. dan akhirnya setelah kejadian itu, mereka selalu bersama sama.
Nah bagaimana kisah selanjutnya ? Yuk Tonton aja..
Trailer
Informasi :
Judul

:

Chuunibyou demo Koi ga Shitai!
English

:

Love, Chunibyo & Other Delusions!
Sinonim

:

Chu-2 Byo demo Koi ga Shitai!, Regardless of My Adolescent Delusions of Grandeur, I Want a Date!
Japanese

:

中二病でも恋がしたい!
Genre

:

Comedy, Drama, Romance, School, Slice of Life
Season

:

Fall 2012
Episode

:

12
Durasi

:

24 min. per ep.
Studio

:

Kyoto Animation
Aired

:

Oct 4, 2012 to Dec 20, 2012
Broadcast

:

Thursdays at 00:30 (JST)
Score

:

7.88
Producer

:

Lantis, Pony Canyon, TBS, Rakuonsha, Animation Do
Licensor

:

Sentai Filmworks
Rating

:

PG-13 - Teens 13 or older
Source

:

Light novel
Subtitle

:

Indonesia
Dilihat

:

195 Views
Kamu bisa download Chuunibyou demo Koi ga Shitai! BD Batch Full Episode Sub Indo dibawah ini. Jika menemukan link rusak/error harap lapor di kolom komentar.
Download Batch Anime Chuunibyou demo Koi ga Shitai! BD Subtitle Indonesia
Anime Lainnya