Website sedang tahap proses pelengkapan konten, jangan lupa share untuk mensupport kami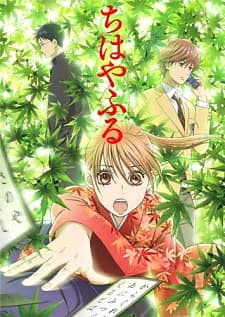 8.28
Sinopsis :
Anime ini bercerita tentang Chihaya Ayase, seorang anak SD yang tomboy dan mempunyai kebiasaan buruk selalu mengatakan apa yang pertama kali terlintas dalam otaknya.
Mimpinya adalah untuk melihat kakaknya yang seorang model untuk menjadi nomor satu di Jepang …, atau mungkin dunia.
Akan tetapi, pertemuannya dengan seorang anak bernama Arata mengubah hidup Chihaya. Arata menjelaskan bahwa mimpi haruslah berkaitan dengan dirinya sendiri. Mimpi melihat kakaknya menjadi model terbaik di Jepang bukanlah sebuah mimpi.
Dari Arata, Chihaya pun menemukan keasyikan bermain Karuta, dimana Arata sendiri adalah yang paling ahli dalam memainkan permainan tersebut.
Waktu pun berlalu, Kini Chihaya sudah berkembang menjadi seorang gadis belia yang cantik. Meski demikian, minatnya pada Karuta tidak berubah.
Dan dari sinilah cerita Chihayafuru menjadi semakin menarik, bagaimana perjuangan Chihaya dkk mendirikan klub Karuta dan untuk menjadi yang terbaik di Jepang …, atau mungkin dunia.
Trailer
Informasi :
Judul

:

Chihayafuru
English

:

Chihayafuru
Sinonim

:

Chihayafull
Japanese

:

ちはやふる
Genre

:

Drama, Game, Josei, School, Slice of Life, Sports
Season

:

Fall 2011
Episode

:

25
Durasi

:

22 min. per ep.
Studio

:

Madhouse
Aired

:

Oct 5, 2011 to Mar 28, 2012
Broadcast

:

Wednesdays at Unknown
Score

:

8.28
Producer

:

VAP, Nippon Television Network
Licensor

:

Sentai Filmworks
Rating

:

PG-13 - Teens 13 or older
Source

:

Manga
Subtitle

:

Indonesia
Dilihat

:

137 Views
Kamu bisa download Chihayafuru BD Batch Full Episode Sub Indo dibawah ini. Jika menemukan link rusak/error harap lapor di kolom komentar.
Download Batch Anime Chihayafuru BD Subtitle Indonesia
Anime Lainnya