Website sedang tahap proses pelengkapan konten, jangan lupa share untuk mensupport kami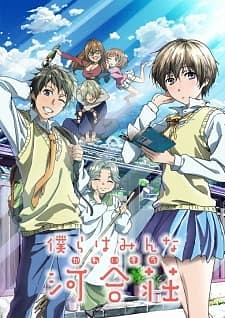 7.83
Bokura wa Minna Kawai-sou
Type

:

BD
Season

:

Spring 2014
Episode

:

12
Durasi

:

24 min. per ep.
Studio

:

Brain's Base
Skor

:

7.83
Sinopsis :
Bokura wa Minna Kawaisou – Usa Kazunari, seorang siswa yang mulai masuk ke SMA, di kehidupan SMAnya, kini dia berencana untuk hidup mandiri dan mencari ketenangan.
Saat disekolah, tepatnya di perpustakaan, dia bertemu dengan kakak kelasnya (senpai), yang membuatnya tertarik, dia adalah Kawai Ritsu.
Saat Kazunari pulang sekolah, dia hendak pergi ke tempat dia tinggal sekarang, yaitu kost kosan, kost tersebut bernama Kawaisou, sesampainya di Kawaisou, dirinya menemukan bukan ketenangan yang dia datangi, tapi, sebuah tempat penuh orang orang unik nan aneh, tapi saat dirinya berada disana, dia bertemu dengan Kawai Ritsu, orang yang dia sukai.
Selanjutnya, kehidupan Kazunari, di Kawaisou, akan penuh keseruan dan keunikan, karena peraturan yang ada disana dan penghuninya yang aneh.
Trailer
Informasi :
Judul

:

Bokura wa Minna Kawai-sou
English

:

The Kawai Complex Guide to Manors and Hostel Behavior
Japanese

:

僕らはみんな河合荘
Genre

:

Comedy, Romance, School, Seinen, Slice of Life
Season

:

Spring 2014
Episode

:

12
Durasi

:

24 min. per ep.
Studio

:

Brain's Base
Aired

:

Apr 4, 2014 to Jun 20, 2014
Broadcast

:

Unknown
Score

:

7.83
Producer

:

TBS
Licensor

:

Sentai Filmworks
Rating

:

PG-13 - Teens 13 or older
Source

:

Manga
Subtitle

:

Indonesia
Dilihat

:

225 Views
Kamu bisa download Bokura wa Minna Kawai-sou BD Batch Full Episode Sub Indo dibawah ini. Jika menemukan link rusak/error harap lapor di kolom komentar.
Download Batch Anime Bokura wa Minna Kawai-sou BD Subtitle Indonesia
Anime Lainnya