Website sedang tahap proses pelengkapan konten, jangan lupa share untuk mensupport kami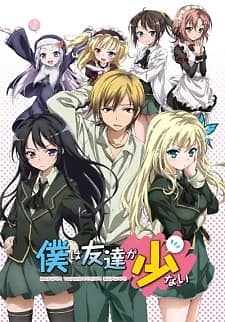 7.45
Sinopsis :
Anime ini bercerita tentang Hasegawa Kodaka, seorang murid pindahan yang kesulitan dalam mencari teman di sekolah barunya dikarenakan warna rambut serta penampilannya yang mirip berandalan.
Suatu hari, ia bertemu dengan Yozora teman sekelasnya yang aneh, soliter, dan pemarah — yang juga tidak memiliki teman, sama seperti dirinya.
Mereka pun memutuskan bahwa cara terbaik untuk mengubah situasi yang sedang dihadapi (tidak punya teman) adalah dengan membentuk Neighbours Club, klub yang dirancang untuk orang-orang yang tidak memiliki teman.
Singkat cerita, beberapa murid lain yang merasa kesepian mulai bergabung dengan klub kecil itu.
Mereka mencoba belajar tentang bagaimana membangun persahabatan melalui memasak bersama, bermain game, dan aktivitas kelompok lainnya — meski kebanyakan malah menimbulkan kejadian konyol yang mengundang tawa.
Trailer
Informasi :
Judul

:

Boku wa Tomodachi ga Sukunai
English

:

Haganai: I don't have many friends
Sinonim

:

I Don't Have Many Friends
Japanese

:

僕は友達が少ない
Genre

:

Comedy, Ecchi, Harem, Romance, School, Slice of Life
Season

:

Fall 2011
Episode

:

12
Durasi

:

24 min. per ep.
Studio

:

AIC Build
Aired

:

Oct 7, 2011 to Dec 23, 2011
Broadcast

:

Fridays at 01:55 (JST)
Score

:

7.45
Producer

:

Media Factory, TBS, Bushiroad, Good Smile Company
Licensor

:

Funimation
Rating

:

R+ - Mild Nudity
Source

:

Light novel
Subtitle

:

Indonesia
Dilihat

:

130 Views
Kamu bisa download Boku wa Tomodachi ga Sukunai BD Batch Full Episode Sub Indo dibawah ini. Jika menemukan link rusak/error harap lapor di kolom komentar.
Download Batch Anime Boku wa Tomodachi ga Sukunai BD Subtitle Indonesia
Anime Lainnya