Website sedang tahap proses pelengkapan konten, jangan lupa share untuk mensupport kami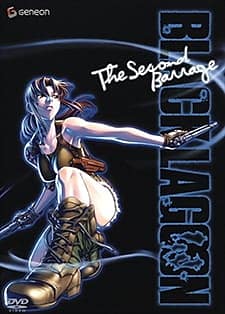 8.26
Sinopsis :
Season 2 dari serial Black Lagoon.
Cerita kita dimulai dengan disanderanya seorang karyawan dari perusahaan Jepang, Asahi Industries, oleh kru Lagoon.
Okajima Rokuro, karyawan yang naas itu sedang melakukan tugas kurir yang ternyata barang yang sedang dibawanya adalah target dari kru Lagoon.
Okajima sebenarnya disandera hanya karena salah satu kru Lagoon berniat menukarnya dengan uang sandera.
Akan tetapi, ketika berita disanderanya Okajima sampai pada atasannya di Jepang, atasannya memutuskan untuk menelantarkannya … layaknya memecat salah satu karyawan yang tak berguna.
Bukan hanya itu saja, atasannya bahkan menyewa pembunuh untuk menghabisi para kru Lagoon beserta dengan Okajima.
..Okajima yang menyadari hal itu pun akhirnya memutuskan untuk bergabung dengan kru Lagoon demi keselamatan namanya.
Okajima juga kemudian menggunakan sebuah nickname yang diberikan kru Lagoon kepadanya berdasarkan namanya, Okajima Rokuro, yaitu Rock.
Dimulailah kehidupan Rock dalam dunia hitam di kota Roanapur, Thailand, tempat markas utama Lagoon Compay berada.
Trailer
Informasi :
Judul

:

Black Lagoon: The Second Barrage
English

:

Black Lagoon: The Second Barrage
Sinonim

:

Black Lagoon 2nd Season, Black Lagoon Second Season
Japanese

:

BLACK LAGOON The Second Barrage
Genre

:

Action, Seinen
Season

:

Fall 2006
Episode

:

12
Durasi

:

24 min. per ep.
Studio

:

Madhouse
Aired

:

Oct 3, 2006 to Dec 19, 2006
Broadcast

:

Unknown
Score

:

8.26
Producer

:

Geneon Universal Entertainment, Front Line
Licensor

:

Funimation, Geneon Entertainment USA
Rating

:

R - 17+ (violence & profanity)
Source

:

Manga
Subtitle

:

Indonesia
Dilihat

:

174 Views
Kamu bisa download Black Lagoon: The Second Barrage BD Batch Full Episode Sub Indo dibawah ini. Jika menemukan link rusak/error harap lapor di kolom komentar.
Download Batch Anime Black Lagoon: The Second Barrage BD Subtitle Indonesia
Anime Lainnya