Website sedang tahap proses pelengkapan konten, jangan lupa share untuk mensupport kami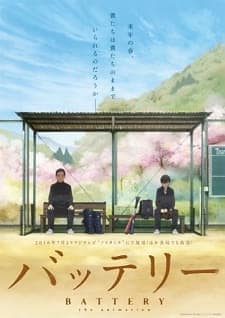 5.78
Battery
Type

:

TV
Season

:

Summer 2016
Episode

:

11
Durasi

:

23 min. per ep.
Studio

:

Zero-G
Skor

:

5.78
Sinopsis :
Saat musim semi, Harada Takumi bersama keluarganya pindah ke daerah pegunungan, Prefektur Okayama.
Semenjak kepindahannya, Takumi yang merupakan seorang Pitcher mulai frustasi karena di tempat tinggalnya yang baru tak ada seorang Catcher yang dapat bersaing dengannya.
Saat ia merasa akan menyerah, tiba-tiba teman kelasnya, Nagakura Gou, muncul di hadapannya dan berkeinginan untuk membentuk "battery" (kombinasi pitcher dan catcher) dengan Takumi.
Trailer
Informasi :
Judul

:

Battery
Japanese

:

バッテリー
Genre

:

Drama, Slice of Life, Sports
Season

:

Summer 2016
Episode

:

11
Durasi

:

23 min. per ep.
Studio

:

Zero-G
Aired

:

Jul 15, 2016 to Sep 23, 2016
Broadcast

:

Fridays at 00:55 (JST)
Score

:

5.78
Producer

:

Aniplex, Dentsu, Kadokawa Shoten, Fuji TV, Kyoraku Industrial Holdings, Kansai Telecasting
Rating

:

PG-13 - Teens 13 or older
Source

:

Novel
Subtitle

:

Indonesia
Dilihat

:

175 Views
Kamu bisa download Battery Batch Full Episode Sub Indo dibawah ini. Jika menemukan link rusak/error harap lapor di kolom komentar.
Download Batch Anime Battery Subtitle Indonesia
Terimakasih sudah download Battery Sub Indo di FuyuBatch. Support kami dengan share post ini.
Anime Lainnya