Website sedang tahap proses pelengkapan konten, jangan lupa share untuk mensupport kami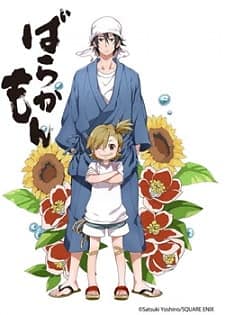 8.47
Barakamon
Type

:

BD
Season

:

Summer 2014
Episode

:

12
Durasi

:

22 min. per ep.
Studio

:

Kinema Citrus
Skor

:

8.47
Sinopsis :
Anime ini bercerita tentang kisah hidup Seishū Handa, kaligrafer muda berusia 23 tahun yang memiliki masalah dengan kepribadiannya.
Handa merupakan tipikal orang yang mudah depresi, tidak punya teman, dan kadang tidak bisa menahan emosinya.
Suatu insiden terjadi tatkala di sebuah pameran, seorang direktur pameran yang juga kurator veteran mengomentari karya kaligrafi Handa dengan kata-kata yang pedas.
Tak terima karyanya dikomentari, Handa pun memukul wajah direktur hingga terkapar. Insiden memalukan tersebut membuat Handa depresi dan mendapat kecaman dari berbagai pihak.
Hingga pada akhirnya, sang ayah pun mengirim ia ke Pulau Gotō agar dapat menenangkan diri dan memperbaiki sikapnya.
Dari sinilah cerita Barakamon bergulir ….
Trailer
Informasi :
Judul

:

Barakamon
English

:

Barakamon
Sinonim

:

Barakamon
Japanese

:

ばらかもん
Genre

:

Comedy, Slice of Life
Season

:

Summer 2014
Episode

:

12
Durasi

:

22 min. per ep.
Studio

:

Kinema Citrus
Aired

:

Jul 6, 2014 to Sep 28, 2014
Broadcast

:

Sundays at 02:20 (JST)
Score

:

8.47
Producer

:

VAP, Nippon Television Network
Licensor

:

Funimation
Rating

:

PG-13 - Teens 13 or older
Source

:

Web manga
Subtitle

:

Indonesia
Dilihat

:

162 Views
Kamu bisa download Barakamon BD Batch Full Episode Sub Indo dibawah ini. Jika menemukan link rusak/error harap lapor di kolom komentar.
Download Batch Anime Barakamon BD Subtitle Indonesia
Anime Lainnya