Website sedang tahap proses pelengkapan konten, jangan lupa share untuk mensupport kami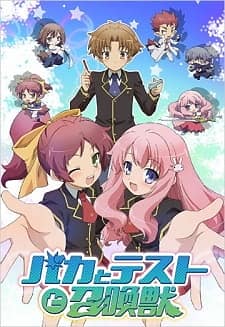 7.76
Baka to Test to Shoukanjuu
Type

:

BD
Season

:

Winter 2010
Episode

:

13
Durasi

:

24 min. per ep.
Studio

:

Silver Link.
Skor

:

7.76
Sinopsis :
Baka to Test to Shoukanjuu Season 1 – Berlatar cerita di salah satu Sekolah di jepang memiliki aturan yang unik. Dimana para siswa bisa mengeluarkan sebuah summon (mahluk panggilan) yang secara bentuk akan sepesifik sama seperti pemiliknya dan kemampuan summon diambil dari banyaknya nilai siswa. Jadi bila siswa dengan nilai paling tinggi akan memiliki kemampuan summon yang kuat dan sebaliknya untuk siswa yang terbodoh akan memiliki summon berkemampuan rendah.
Suatu hari di sekolah tersebut mengadakan ujian test pada siswa baru untuk menentukan dimana kelas mereka. Kelas paling tinggi adalah kelas A dan kelas paling rendah adalah kelas F. Mereka semua berjuang mati matian untuk mendapatkan kelas tertinggi karena fasilitas kelas yang lengkap dan sebaliknya untuk kelas yang rendah.
Pada saat itu sang tokoh utama yang bernama Akihisa Yoshii yang sedang mengikuti ujian tiba tiba terkejut karena teman perempuannya yang bernama Mizuki Himeji tiba tiba pingsan disebelah bangkunya dan Yoshii pun menyelamatkannya. Tapi karena hal itu Yoshii pun mendapatkan kelas paling rendah yang itu kelas F.
Tapi sebenarnya Yoshii beruntung berada di kelas F karena seluruh teman akrabnya berada di kelas yang sama, mereka adalah Hideyoshi Kinoshita, Yuuji Sakamoto , Minami Shimada, Kouta Tsuchiya dan tak terkecuali Himeji karena dia pingsan akhirnya siswi pintar dan cantik tersebut berada di kelas yang sama juga.
Peraturan lain yang ada disekolah adalah siswa boleh berebut kelas dengan melakukan pertarungan summon.
Nah bagaimana nasib mereka yang ada di kelas F ? akankah mereka akan menantang kelas yang lebih tinggi untuk berebut kelas ?
Trailer
Informasi :
Judul

:

Baka to Test to Shoukanjuu
English

:

Baka & Test - Summon the Beasts
Sinonim

:

The Idiot, the Tests, and the Summoned Creatures, Baka to Test to Shokanju, BakaTest
Japanese

:

バカとテストと召喚獣
Genre

:

Comedy, Romance, School, Super Power
Season

:

Winter 2010
Episode

:

13
Durasi

:

24 min. per ep.
Studio

:

Silver Link.
Aired

:

Jan 7, 2010 to Apr 1, 2010
Broadcast

:

Thursdays at 02:20 (JST)
Score

:

7.76
Producer

:

Lantis, Media Factory, Cospa, T.O Entertainment
Licensor

:

Funimation
Rating

:

PG-13 - Teens 13 or older
Source

:

Light novel
Subtitle

:

Indonesia
Dilihat

:

166 Views
Kamu bisa download Baka to Test to Shoukanjuu BD Batch Full Episode Sub Indo dibawah ini. Jika menemukan link rusak/error harap lapor di kolom komentar.
Download Batch Anime Baka to Test to Shoukanjuu BD Subtitle Indonesia
Anime Lainnya