Website sedang tahap proses pelengkapan konten, jangan lupa share untuk mensupport kami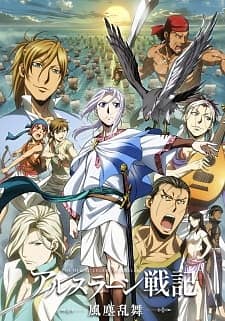 7.61
Arslan Senki (TV): Fuujin Ranbu
Type

:

BD
Season

:

Summer 2016
Episode

:

8
Durasi

:

24 min. per ep.
Studio

:

LIDENFILMS
Skor

:

7.61
Sinopsis :
Anime ini bercerita tentang seorang putra mahkota kerajaan Pars yang bernama Arslan, dimana kerajaan tersebut diambil alih oleh kerajaan Lusitania.
Pada usia 14 tahun, Arslan ikut dalam perang untuk pertama kalinya dan kehilangan segalanya, setelah ayahnya, Raja Adragoras kalah dalam pertempuran, setelah Arslan berhasil menyelamatkan diri bersama pengikutnya yang setia, Daryun.
Bersama temannya yang baru: Narsus; Elam; Gieve; dan Farangis, Arslan mulai membangun kekuatan yang baru untuk melawan tentara Lusitania yang dipimpin oleh ksatria yang dikenal dengan sebutan Silvermask dan berusaha keras agar dapat merebut kembali kerajaannya yang pernah jatuh.
Trailer
Informasi :
Judul

:

Arslan Senki (TV): Fuujin Ranbu
English

:

The Heroic Legend of Arslan: Dust Storm Dance
Japanese

:

アルスラーン戦記 風塵乱舞
Genre

:

Action, Adventure, Drama, Fantasy, Historical, Shounen, Supernatural
Season

:

Summer 2016
Episode

:

8
Durasi

:

24 min. per ep.
Studio

:

LIDENFILMS
Aired

:

Jul 3, 2016 to Aug 21, 2016
Broadcast

:

Sundays at 17:00 (JST)
Score

:

7.61
Producer

:

Mainichi Broadcasting System, Magic Capsule, Ultra Super Pictures, Graphinica, NBCUniversal Entertainment Japan
Licensor

:

Funimation
Rating

:

PG-13 - Teens 13 or older
Source

:

Manga
Subtitle

:

Indonesia
Dilihat

:

140 Views
Kamu bisa download Arslan Senki (TV): Fuujin Ranbu BD Batch Full Episode Sub Indo dibawah ini. Jika menemukan link rusak/error harap lapor di kolom komentar.
Download Batch Anime Arslan Senki (TV): Fuujin Ranbu BD Subtitle Indonesia
Anime Lainnya