Website sedang tahap proses pelengkapan konten, jangan lupa share untuk mensupport kami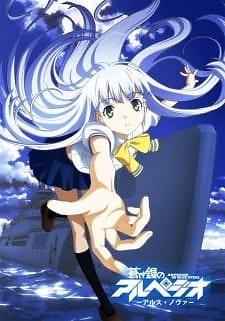 7.5
Sinopsis :
Anime ini berlatar pada tahun 2039, di mana sebagian besar daratan di Bumi telah tenggelam yang disebabkan oleh global warming.
Saat umat manusia hidup dengan mengandalkan lautan sebagai teritori utama, muncul lah 'Fleet of Fog' – sebuah pasukan angkatan laut yang tidak diketahui asal, identitas, maupun tujuan sebenarnya.
Fleet of Fog memiliki kekuatan tempur yang jauh melebihi kemampuan tempur umat manusia dan memaksa manusia mundur ke daratan.
Fleet of Fog juga memblokade seluruh jalur perdagangan dan transportasi melalui lautan, serta menghancurkan seluruh media komunikasi antar negara dan menjadikan tiap negara yang masih bertahan terisolasi.
Dan 7 tahun setelah pertempuran besar terakhir umat manusia melawan Fleet of Fog, sebuah harapan akhirnya muncul ketika Chihaya Gunzou yang merupakan kapten dari kapal selam I-401 didatangi oleh seorang gadis bernama Iona.
Gadis tersebut merupakan sebuah artificial intellegence berbentuk manusia dari submarine I-401 Fleet of Fog yang hanya memiliki satu perintah dalam ingatannya :
"Bertemu dengan Gunzou Chihaya, dan patuhi perintahnya"
Kombinasi kepandaian dan kekuatan mereka merupakan satu-satunya yang mampu menghadapi Fleet of Fog didalam pertempuran sekaligus memulai upaya untuk menyelamatkan umat manusia.
Trailer
Informasi :
Judul

:

Aoki Hagane no Arpeggio: Ars Nova
English

:

Arpeggio of Blue Steel -Ars Nova-
Sinonim

:

Aoki Hagane no Arpeggio: Ars Nova
Japanese

:

蒼き鋼のアルペジオ ‐アルス・ノヴァ‐
Genre

:

Action, Sci-Fi, Seinen
Season

:

Fall 2013
Episode

:

12
Durasi

:

24 min. per ep.
Studio

:

SANZIGEN
Aired

:

Oct 8, 2013 to Dec 24, 2013
Broadcast

:

Tuesdays at 02:55 (JST)
Score

:

7.5
Producer

:

Sotsu, KlockWorx, flying DOG, Ultra Super Pictures, Showgate, Shounen Gahousha
Licensor

:

Discotek Media
Rating

:

PG-13 - Teens 13 or older
Source

:

Manga
Subtitle

:

Indonesia
Dilihat

:

138 Views
Kamu bisa download Aoki Hagane no Arpeggio: Ars Nova BD Batch Full Episode Sub Indo dibawah ini. Jika menemukan link rusak/error harap lapor di kolom komentar.
Download Batch Anime Aoki Hagane no Arpeggio: Ars Nova BD Subtitle Indonesia
Anime Lainnya