Website sedang tahap proses pelengkapan konten, jangan lupa share untuk mensupport kami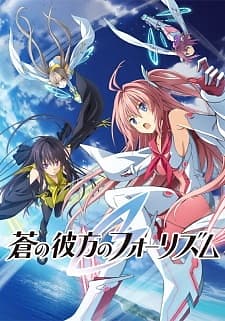 6.86
Type

:

BD
Season

:

Winter 2016
Episode

:

12
Durasi

:

24 min. per ep.
Studio

:

Gonzo
Skor

:

6.86
Sinopsis :
AoKana mengambil tema awal yang cukup simpel, yaitu bagaimana manusia bisa terbang di udara dengan bebas.
Agar dapat melakukan hal tersebut, diciptakanlah sebuah teknologi sepatu anti-gravitasi bernama Grav-Shoes.
Teknologi ini membuat pemakainya bisa melayang di udara dan menjadi cikal bakal sebuah olahraga baru bernama Flying Circus, dimana peserta harus adu cepat dan adu strategi untuk memenangkan pertandingan.
Tokoh utamanya bernama Asuka Kurashina, murid baru di SMA Kunahama yang ingin sekali terbang bebas dengan Grav-Shoes.
Oleh karena itu, dia pun mengikuti Flying Circus walau sebelumnya dia tidak punya dasar apa-apa tentang olahraga tersebut.
Dalam perjalanannya, Asuka bertemu dengan Masaya Hinata yang menjadi pelatih serta Misaki Tobisawa dan Mashiro Arisaka yang menjadi rekan satu timnya.
Trailer
Informasi :
Judul

:

Ao no Kanata no Four Rhythm
English

:

Aokana: Four Rhythm Across the Blue
Sinonim

:

Aokana
Japanese

:

蒼の彼方のフォーリズム
Genre

:

Drama, School, Sci-Fi, Sports
Season

:

Winter 2016
Episode

:

12
Durasi

:

24 min. per ep.
Studio

:

Gonzo
Aired

:

Jan 12, 2016 to Mar 29, 2016
Broadcast

:

Tuesdays at 02:05 (JST)
Score

:

6.86
Producer

:

TV Tokyo, Pony Canyon, AT-X, DLE, NBCUniversal Entertainment Japan, Docomo Anime Store, bilibili, Kanon Sound, Hobibox
Rating

:

PG-13 - Teens 13 or older
Source

:

Visual novel
Subtitle

:

Indonesia
Dilihat

:

165 Views
Kamu bisa download Ao no Kanata no Four Rhythm BD Batch Full Episode Sub Indo dibawah ini. Jika menemukan link rusak/error harap lapor di kolom komentar.
Download Batch Anime Ao no Kanata no Four Rhythm BD Subtitle Indonesia
Anime Lainnya