Website sedang tahap proses pelengkapan konten, jangan lupa share untuk mensupport kami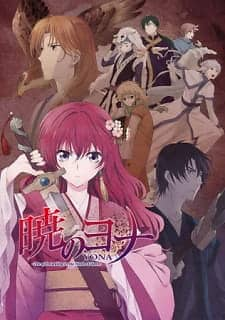 8.18
Sinopsis :
Anime ini bercerita tentang Yona, putri tunggal kerajaan Kouka berambut merah yang terkenal manja dan kekanak-kanakan.
Ia hidup dengan damai di istana bersama ayahnya yang anti senjata, Raja Il, dan pengawalnya yang juga merupakan teman mainnya sejak kecil, Son Hak dari klan angin.
Sejak kecil, Yona jatuh cinta kepada Su Won, sepupunya yang ramah dan ceria. Namun, pada malam ulang tahunnya yang keenam belas, kehidupan Yona berubah total setelah ia menyaksikan Su Won membunuh ayahnya untuk mengambil alih tahta kerajaan.
Sebagai saksi mata, Yona pun nyaris menjadi korban. Beruntungnya, Son Hak berhasil menyelamatkan dan membawanya keluar dari istana.
Sejak saat itu, mereka berdua harus terus bersembunyi dari kejaran Suwon dan pasukan kerajaan.
Insiden tersebut membuat Yona bertekad untuk membalaskan dendam ayahnya. Meskipun sebenarnya, Yona masih menyimpan perasaan cinta kepada Su Won.
Trailer
Informasi :
Judul

:

Akatsuki no Yona
English

:

Yona of the Dawn
Sinonim

:

Yona: The girl standing in the blush of dawn
Japanese

:

暁のヨナ
Genre

:

Action, Adventure, Comedy, Fantasy, Romance, Shoujo
Season

:

Fall 2014
Episode

:

24
Durasi

:

24 min. per ep.
Studio

:

Studio Pierrot
Aired

:

Oct 7, 2014 to Mar 24, 2015
Broadcast

:

Tuesdays at 23:00 (JST)
Score

:

8.18
Producer

:

VAP, Hakusensha, AT-X, Delfi Sound, Marvelous AQL, Tokyo MX, Age Global Networks, Docomo Anime Store, Top-Insight International Co., LTD.
Licensor

:

Funimation
Rating

:

PG-13 - Teens 13 or older
Source

:

Manga
Subtitle

:

Indonesia
Dilihat

:

190 Views
Kamu bisa download Akatsuki no Yona BD Batch Full Episode Sub Indo dibawah ini. Jika menemukan link rusak/error harap lapor di kolom komentar.
Download Batch Anime Akatsuki no Yona BD Subtitle Indonesia
Anime Lainnya