Website sedang tahap proses pelengkapan konten, jangan lupa share untuk mensupport kami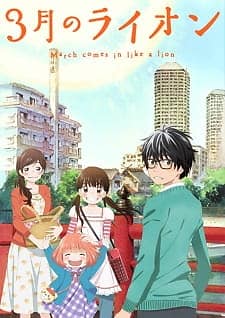 8.43
3-gatsu no Lion
Sinopsis :
Kiriyama Rei sejak kecil telah kehilangan keluarganya karena suatu kejadian. Apa yang menimpa keluarganya itu telah meninggalkan luka mendalam di hatinya.
Meskipun begitu, Rei yang telah berumur 17 tahun kini hanya ingin fokus menjadi pemain shogi profesional.
Suatu hari, Rei yang hidup sendirian di kota Tokyo bertemu dengan 3 perempuan bersaudara; Akari, Hinata dan Momo. Sejak itu kehidupan Rei perlahan mulai berubah ….
Trailer
Informasi :
Judul

:

3-gatsu no Lion
English

:

March comes in like a lion
Sinonim

:

Sangatsu no Lion
Japanese

:

3月のライオン
Genre

:

Drama, Game, Seinen, Slice of Life
Season

:

Fall 2016
Episode

:

22
Durasi

:

25 min. per ep.
Studio

:

Shaft
Aired

:

Oct 8, 2016 to Mar 18, 2017
Broadcast

:

Saturdays at 23:00 (JST)
Score

:

8.43
Producer

:

Aniplex, Dentsu, NHK, Hakusensha, Asmik Ace Entertainment, Toy's Factory
Licensor

:

Aniplex of America
Rating

:

PG-13 - Teens 13 or older
Source

:

Manga
Subtitle

:

Indonesia
Dilihat

:

161 Views
Kamu bisa download 3-gatsu no Lion BD Batch Full Episode Sub Indo dibawah ini. Jika menemukan link rusak/error harap lapor di kolom komentar.
Download Batch Anime 3-gatsu no Lion BD Subtitle Indonesia
Anime Lainnya