Website sedang tahap proses pelengkapan konten, jangan lupa share untuk mensupport kami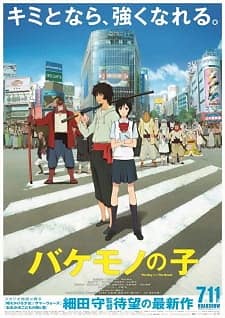 8.48
Bakemono no Ko
Type

:

Movie
Aired

:

Jul 11, 2015
Episode

:

1
Durasi

:

1 hr. 58 min.
Studio

:

Studio Chizu
Skor

:

8.48
Sinopsis :
Hidup Ren berubah drastis setelah sang ibu meninggal dunia akibat kecelakaan.
Tanpa mengetahui kabar dari sang ayah dan menolak untuk tinggal dengan walinya, Ren berlarian di jalanan Shibuya sambil mengucapkan sumpah serapah kepada manusia.
Setelah berlarian ke sana kemari Ren tidak sengaja masuk ke dunia binatang di mana para hewan bertingkah layaknya manusia. Di dunia tersebut, Ren bertemu dengan Kumatetsu yang sedang berusaha untuk menjadi Dewa Binatang yang baru.
Untuk mendapatkan gelar tersebut Kumatetsu harus mempunyai seorang murid yang harus dilatih, Ren mau menjadi murid Kumatetsu dan dia merubah nama Ren menjadi Kyuuta.
Kyuuta harus menjadi murid dari seorang guru yang serampangan dan liar namun semakin hari mereka semakin akur dan saling belajar satu sama lain.
Trailer
Informasi :
Judul

:

Bakemono no Ko
English

:

The Boy and the Beast
Sinonim

:

Child of a Beast
Japanese

:

バケモノの子
Genre

:

Adventure, Supernatural
Episode

:

1
Durasi

:

1 hr. 58 min.
Studio

:

Studio Chizu
Aired

:

Jul 11, 2015
Score

:

8.48
Producer

:

Dentsu, Yomiuri Telecasting, Kadokawa Shoten, Toho, Nippon Television Network
Licensor

:

Funimation
Rating

:

PG-13 - Teens 13 or older
Source

:

Original
Subtitle

:

Indonesia
Dilihat

:

304 Views
Kamu bisa download Bakemono no Ko Batch Full Episode Sub Indo dibawah ini. Jika menemukan link rusak/error harap lapor di kolom komentar.
Download Batch Anime Bakemono no Ko Subtitle Indonesia
Anime Lainnya